As a family owned and operated small business, Blast Products, Inc. never treats our customers like just another number. When you come to us, we will take the time to listen to your unique needs and wants, and then recommend the service we think will be ideal for you. Here is a closer look at the different services we're pleased to offer: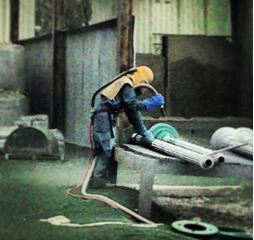 Abrasive supplies, sales and rentals: With our overwhelming selection of quality products, you will be able to find what you need for any project and any preference.
Delivery: Our delivery services help make your job a little easier, and help the project go a little more smoothly.
Mobile sand blasting services: Our mobile sand blasting services in Salt Lake City, UT allow us to do onsite work within a 100-mile radius.
Reliable technical support: If you are experiencing any sort of difficulty with one of our products, you can rest assured that help is only a phone call away.
Sandblast system repairs and service: If a broken or improperly serviced piece of equipment is getting in the way of your sand blasting in Salt Lake City, UT, leave it to us to quickly fix the issue.
Sandblasting equipment sales, service and rentals: We partner with top industry brands to ensure we can provide you with the best possible selection of sandblasting equipment.
Sandblast system repair: Our experienced technicians will be happy to locate and remedy whatever issue is plaguing your sandblasting system.
In-shop sandblasting services: In addition to mobile services, we can also provide sandblasting work in our own shop, if you'd rather come to us.
Sandblast system rentals: Our rentals are affordable, well cared for and an easy alternative to purchasing an entire system.
For more information, please call Blast Products, Inc. at 801-532-5278, or visit our Contact Us page.