Sandblasting Equipment in Salt Lake City, UT
Welcome to Blast Products, Inc., Salt Lake City, UT's premier supplier of media blasting supplies and sandblasting equipment sales. Family owned and operated for over 25 years, we never cut corners, and that shows through in both the quality of our products and the comprehensiveness of our service.
Sandblasting Equipment & Abrasives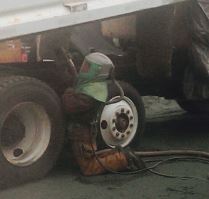 When construction teams, home do-it-yourselfers or anyone else wants a smooth, contaminant-free surface, they trust Blast Products, Inc., a family-owned and operated sandblasting equipment business in Salt Lake City, UT. For over 25 years, we have been providing key products to our valued customers. We deliver within a 100-mile radius, and we offer everything from abrasive material to sandblasting in Salt Lake City, UT. We have helped thousands of valued clients over the years, and we look forward to helping you and your business soon as well.
Since our founding in 1991, Blast Products, Inc. has built a reputation for providing a large variety of abrasive media, reliability and prompt service to the residents and businesses of Salt Lake City and the surrounding areas. Our team of knowledgeable and skilled technicians specializes in a wide variety of abrasive material, including aluminum oxide, baking soda, copper slag, glass bead, grit, garnet, steel grit, walnut shell and so much more. You can always rely on Blast Products, Inc. to give you just what you need to ensure that your project is a success. Here are just a few reasons why you can always trust us to be your supplier of industrial abrasives in Utah, Wyoming, Idaho, and Nevada:
We are a local, family-owned and operated small business in Salt Lake City, UT.
Our business offers a wide range of abrasive materials for your convenience.
We have been serving our community and beyond since 1991.
We deliver to all clients within a 100-mile radius.
Our rates are always reasonable, and our quality is unbeatable.
Offer LTL and FTL rates anywhere" Thank you!
Call Us Today
For more information on our services, products and rates, please get in touch with Blast Products, Inc. today.
Providing sandblasting services to clients in:
Salt Lake City, UT
Sandy, UT
Provo, UT
Price, UT
Ogden, UT
Logan, UT
Salt Lake County, UT
Utah County, UT
Davis County, UT
Elko County, NV
Franklin County, ID
Cassia County, ID
Minidoka County, ID
Uinta County, WY
Utah
Wyoming
Nevada
Idaho
---